Running fast on black friday..... will the internet keep up?  Will Amazon keep up with the orders?  Will they be able to deliver all the orders on time?  If they can it will be a very bold statement to the massive success of Amazon in winning the bet on internet order fulfillment.
Amazon, Walmart, Facebook, Microsoft and all the rest....  it is so amazing how far the internet has grown and become so critical to business and society.  In the short time of 1969 to 2017 the internet has become the most effective tool in communications and selling in the history of the world.
Convergence is done.... all media is available in real time online.  Did you get ahead of it and cash in on it?
The next revolutions will be in VR/AR, AI, Robotics, Biology, Genetics and 3D printing.
Are you positioned and ready for them?
Will the next 48 years result in an order of magnitude of innovations?
I am 48 now so another 48 years makes me 96.    Will I still be living? Will the world still be habitable or will human nature have taken us to global genocide from environmental, biological and/or nuclear destruction?
Learn how to grow food....  and defend yourself from hunger.
Learn how to tend to the soil...defend yourself from hunger.
Learn how to convert saltwater and contaminated water to potable water.... defend yourself from thirst.
Learn how to teach others to do the same.....defend yourself from ignorance.
Learn how to fight.... and defend yourself from the hungry thirsty ignorant masses who refuse to learn.
Whether you are looking to set up a hosting business from scratch or want to leverage the existing IT infrastructure of your enterprise, reselling web hosting is one of the hottest business ideas of 2017. Easy to set-up and without having to pump in heavy capital, Reseller web hosting allows you to run a business which is logistically simple while promising good returns. However, before we dive into the prospects of reseller hosting, let's begin our discussion with the most fundamental question.
How Does Reselling Web Hosting Work?
Today, it is virtually impossible to imagine a business without a website or web presence. From home-based business owners to big corporates, every entity needs a website to promote their service or product in a convenient and affordable manner. One of the most basic requirements of deploying a website on the web is the need of the web hosting plan. This is where your role as a reseller comes into the picture. As a Reseller –
You purchase the best reseller hosting package from a reputed upstream hosting provider
You then divide the reseller hosting packages and resell it to individual account holders (your clients)
You are in control of the amount of bandwidth and disk space each account holder will receive
You can create customizable packages and sell it to business owners with different hosting needs
So, when you are reselling hosting plans, you become the intermediary of your upstream host. You can run the business under your label or brand, but the best part is that all the nitty-gritty of running hosting business involving server maintenance, software updates, security fixes, customer support fall on the parent host.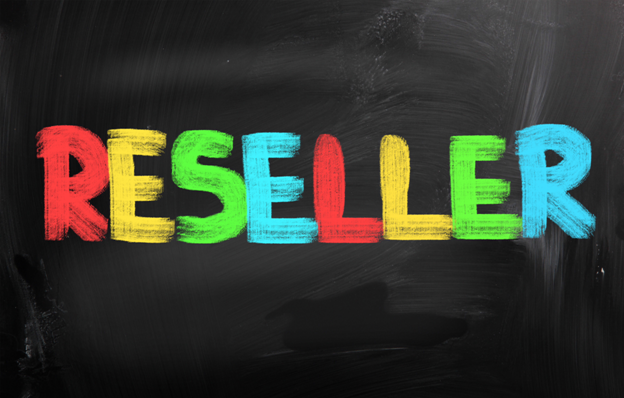 Things to Consider Before Venturing into Reselling Business
The path to reseller hosting can be a little challenging for those looking to venture into the web hosting world for the first time, as opposed to entities who want to leverage their current resources. IT service providers or web design companies, for instance, will find it relatively easier to set up a reselling business within the existing scheme of things. All they have to do is add a new service to their brand name.
Having stated that, both parties should be mindful that reselling web hosting is highly competitive and to start a successful reselling business they should pay attention to the following –
The reputation of the Upstream Host – Partnering with a well-established and favorably reviewed upstream provider will ensure that your client does not face any problem. Since you become the face of the parent host, opting for an unreliable partner can have implication on your branding.
Analysis of the Target Audience – This is paramount before you start the reselling business. Who is your target audience? Are they small business owners or big corporates? An analysis of this metric will guide you to purchase the best reseller hosting plan and build a solid marketing and support team to service them.
In addition to the above, new entrants will also have to build a sound business infrastructure to facilitate brand building. This includes –
Setting up Customer Support– For a competitive edge, it's advisable to build an in-house customer support team.
Hiring Marketing Professionals – For devising new marketing and promotional strategies across the web and social media platforms.
Hire Business Development Executive – For the purpose of networking to facilitate visibility amongst business circles.
Finally, 5 Reasons why it makes Sense to Initiate Reseller Web Hosting in 2017
A New Window of Opportunity – Business continuously looks for new business opportunities to expand and grow. However, weighing the operational cost and prospects of the business is important before starting any auxiliary service. Thankfully, reselling hosting entails minimal investment, and the business prospects are also bright.
Excellent Way to Supplement Earning – It is the easiest way to earn residual income without much fanfare. However, to get good profits out of the reselling business, it's important to work out a realistic margin.
A Good Way to Leverage Existing Resources – As an owner of an IT or web design company you already have the requisite resources and expertise at your disposal. In short, you don't want to drive away focus from the core business to set-up a reselling business.
An Opportunity to Explore New Markets – You may be spearheading a product company that targets a specific group of users. However, with reselling business, you will come into contact with a wider audience that will give you an insight into their needs and perhaps trigger innovation for a new idea.
Give your Business a New Identity – You may be a well-known and established web design agency, but if you excel in the reselling business, your brand will automatically receive a new identity. Adding a new service to your vertical will promote branding effort and can get you more clients.
Final Thoughts
Although from the face of it, reselling business may seem to you as an uncomplicated and simple venture it should be noted that in web hosting is a highly competitive field. Not only will be witness fierce competition, but you should also be in the position to offer excellent customer support service.
To provide smooth service, you may have to hire a client redressal team. At the same time, you may also have to set-up a dedicated team for branding and marketing endeavors.
Products from Amazon.com
‹
›